In this article, we have a cover piece of complete details about how to complete Fortnite 4th Birthday Challenges and also Fortnite 4th Birthday Challenges rewards Collect resources from balloon decor Fortnite birthday challenge. Read Complete Article to Know Full Details.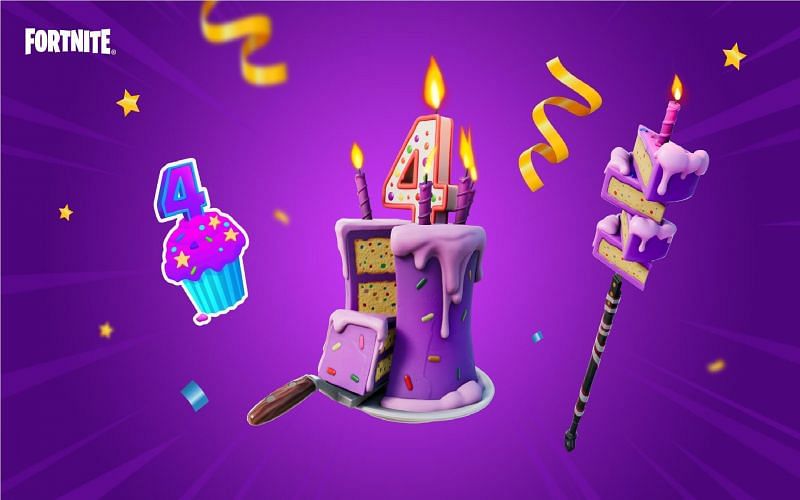 Fortnite, I'd want to wish you a happy birthday. This weekend marks the 4th anniversary of Epic's tower defense game, which has evolved into a battle royale game and metaverse frontrunner, and the Fortnite 4th birthday challenges – complete details are now available in-game to commemorate the occasion. There's nothing to buy, but there's no XP either. Instead, you'll be able to unlock new holiday cosmetics. Here are all of the Fortnite birthday challenges – How to complete, as well as the rewards you'll receive.
What is Fortnite 4th Birthday Challenge – Complete Details
Players may once again complete Fortnite 4th Birthday Quests Guide (2021) and receive a slew of free cosmetic items as Epic Games' renew battle royale turns four. but, before the objectives and awards can be explore in depth. Many gamers are confuse about Fortnite's precise birthday in 2021. Fortnite's 4th birthday is officially celebrated on September 26th. The day the Fortnite Battle Royale mode was release in 2017.
Fortnite 4th Birthday Challenges Complete Details
Fortnite's 4th birthday celebration includes four tasks and three cosmetic items that unlock. The tasks themselves appear to be simple: throw birthday presents, eat birthday cakes, dance in front of cakes, and gather materials from balloon decorations. Birthday Presents spawn as loot on the ground and in chests. All main places of interest (POIs) and possibly lesser sites have birthday cakes. Balloon decorations can also be found all around the map. In general, the quests should be simple to complete. The pickaxe is yours after completing one task, the back bling after completing two, and the emoticon after completing three.
Also Read : Fortnite x Balenciaga | How to get Balenciaga Skin in Fortnite
Fortnite 4th Birthday Quests Rewards Guide:
The whole list of tasks for Fortnite's 4th Birthday Quest Rewads can be found here:
0/4Throw Birthday Presents 

0/4 Consume Birthday Cakes in different matches

0/4

Dance in front of Cakes

 

0/50 Collect resources from Balloon Decorations 

Harvesting Tool – Hooplah Hammer
Back Bling – 4 Me???
Emoticon – 4? Score!
Also Read: Fortnite Season 8 XP Glitch : Unlimited XP Glitch
The promotion will end in three days, so take advantage of this chance to get free in game rewards while celebrating Fortnite Battle Royale's fourth anniversary. Any new information on Fortnite's 4th Birthday event will add to this post.
Conclusion:
In this article, we have covered a piece of detailed information on How to Complete Fortnite 4th Birthday Challenges. All the possible ways to have the rewards in Fortnite Birthday  Challenges. We also covered some faq related to the Fortnite 4th Birthday Challenges Quests Guide.